Cell Tower Protection
Educational Cell Phone Ebook
• increasing forgetfulness and difficulty with language
• not knowing what is happening to them, often in the years when they're raising young children and building
financial security
• ringing in his ear
• felt dizzy
• forgetfulness
• social withdrawal
• difficulty planning or finishing complex tasks
Jeepers! I had exactly the same symptoms when I was being bombarded with microwaves from cell phone towers near my home and place of work and from the WiFi from my adjacent neighbors' apartments! They all disappeared when I moved into a microwave-free environment up in the mountains of Japan, (which was very difficult to find btw)! The main clue here is staring us right in the face:
"[he] called his wife one day from a cellphone in the men's room of his Manhattan office building."
I have immense compassion for this person; but I don't have any for those unwilling to tell us (or for those unwilling to even to accept or consider) what might very well be the truth of what are really causing these problems — i.e. those who just want to pretend nothing is wrong and maintain the status quo. If one looks at the brain of the rat exposed to two hours of cell phone radiation then it really does become a no-brainer. It (science) is about making "logical inferences" based on facts. But obviously most people are not even able to do that anymore — i.e. their brains are being fried — and basically they just regurgitate things they hear or read in the media: "I thought Autism/ADHD was genetic." "The reason more children have autism and brain tumors now is because they are being diagnosed more." "The bees are dying because of a virus!"
Like this person, I had to leave my position — a relatively well-paid and respected position as Associate Professor at Kyushu University in Japan. But the severance package there (for foreigners) was approximately a lousy one months salary — enough to move our furniture back to my wife's parents' house in central Japan. And then there was no social security to help because being sensitive to electromagnetic radiation is a condition that most governments (in bed with the cell phone industry) don't want to admit exists. And because I have taken on the moral responsibility to try to do something about and to be publicly open about this problem (on the Internet), I am being discriminated against in the workplace — even though I am perfectly healthy now. I am being discriminated against for having had a condition that most governments will not even admit exists.
paul doyon
NOVEMBER 14, 2008
When Alzheimer's Hits at 40
Early-Onset Sufferers Juggle Children, Job and Dementia
By SHIRLEY S. WANG
Brian Kammerer, the 45-year-old chief financial officer of a small hedge fund, called his wife one day from a cellphone in the men's room of his Manhattan office building. A colleague had just asked him for something, he whispered, but he had no idea what it was.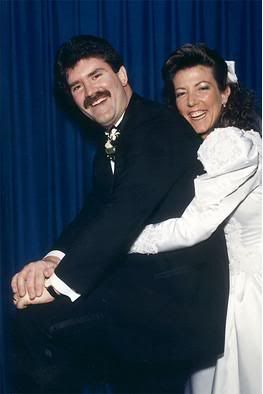 Newlyweds Brian and Kathy Kammerer in 1991
"It clicks and it holds papers together," he said.
"A stapler?" Kathy Kammerer asked.
"I think that's what it's called," he replied.
Soon after that exchange in early 2003, the father of three was diagnosed with Alzheimer's disease, capping nearly five years of uncertainty and fear about his increasing forgetfulness and difficulty with language.
While most people who get Alzheimer's are over 65, Mr. Kammerer is one of about 500,000 Americans living with Alzheimer's or other dementias at an atypically young age. Alzheimer's takes a long time to develop — usually, it isn't diagnosed until 10 years after the first symptoms appear — but more Americans are identifying it early, thanks in part to aggressive screening programs pushed in recent years by groups including the Alzheimer's Foundation of America, a national alliance of caregivers.
The disease can be especially torturous when it creeps up on those in their 30s and 40s. As these patients move through Alzheimer's early stages, they are forced to cope with the dread of not knowing what is happening to them, often in the years when they're raising young children and building financial security. As the disease progresses, there are slip-ups to cover, appearances to keep up. When these "early onset" Alzheimer's sufferers are finally diagnosed, they face hard questions — whom to tell and when, and what these divulgences mean for their jobs and health insurance.
Overall, an estimated 5.2 million Americans have Alzheimer's, with as many as 10% diagnosed under the age of 65 — the definition of early onset, according to the Alzheimer's Association, a national research organization. As the population ages, the number of individuals with Alzheimer's is expected to hit 7.7 million in 2030.
Suffering from Alzheimer's at an Early Age
2:59
Bill Kammerer began feeling the symptoms of Alzheimer's disease in his mid-30's. As WSJ's Shirley Wang reports, the disease touched off a series of hard questions for his family. (Nov. 14)
A Wife's Words
Listen to WSJ reporter Shirley Wang and Mrs. Kammerer talk about early warning signs, hearing her husband's diagnosis, what a typical day is like for him now and how the disease has changed her perspective on life.
• Health Blog: Four Signs of Early Alzheimer's
There are no Alzheimer's cures now on the market. Current medications mitigate some symptoms but don't slow or halt the disease's progression. Pharmaceutical companies are working on new therapies that reduce or remove amyloid, a sticky substance in the brain thought to play a role in the disease. There are more medicines in development for Alzheimer's than any other neurologic disease except pain, according to Pharmaceutical Research and Manufacturers of America, the industry trade group. It will likely be years before a new generation of drugs makes it to market.
Now 51 years old, Mr. Kammerer, like many Alzheimer's patients, had no history of the disease in his family. He grew up on the north shore of Long Island, where he stood out at school for his talent with numbers. After attending college at the State University of New York-Albany, he got a job on Wall Street.
Mr. Kammerer met his future wife, Kathy, in 1983 at Donaldson, Lufkin & Jenrette, the investment bank where they both worked. Kathy, who had also grown up on Long Island, recalls not quite believing it when the handsome, fun-loving man with thick brown hair she was dating asked her to marry him.
They wed in 1991. Soon they had a son and two daughters, and Mrs. Kammerer stopped working to care for them at their home in Long Island's Massapequa Park. Mr. Kammerer commuted into Manhattan.
Mr. Kammerer worked long hours in the office, his wife and former colleagues recall. But he also had a lively and self-deprecating sense of humor. Mrs. Kammerer said he was the life of the party. "He always had a cigar hanging out of his mouth," she says.
He had "a blue-collar mentality in a white-collar job," says Martin Jaffe, chief operating officer and co-founder of Silvercrest Asset Management Group LLC, who worked with Mr. Kammerer for 15 years.
Back home, Mr. Kammerer gave his children silly gifts like plastic glasses with fake moustaches and took his wife out dancing on date nights. He whisked the family away on surprise vacations to Florida. In the summers, he loved to barbecue and organized impromptu family slumber parties under the stars, his daughter Kate, now 13, recalls.
In 1998, Mr. Kammerer started complaining of ringing in his ear. He sometimes felt dizzy, Mrs. Kammerer recalls. Other times he gave his wife a look as though he didn't understand what she had just said. The Kammerers sought out a neurologist, who suggested Mr. Kammerer get a magnetic resonance imaging scan of his brain.
When the MRI results came back, they didn't look normal, the neurologist told the Kammerers. The doctor was unable to give them a diagnosis, however: He couldn't say whether there was something wrong, Mrs. Kammerer recalls, or whether Mr. Kammerer's brain had always looked that way.
Had they even suspected Alzheimer's, it would have been difficult to diagnose. Doctors look for patients or their families to report a collection of symptoms — such as forgetfulness, social withdrawal and difficulty planning or finishing complex tasks — that worsen over years. (The dizziness and ringing ears Mr. Kammerer experienced aren't generally considered symptoms.) Currently, Alzheimer's can be diagnosed conclusively only by autopsy.
Mrs. Kammerer recalls staring at the picture of her husband's brain. "This is our future," she thought. She wondered whether she would need to get a job again should her husband be unable to work. The idea of going back to Wall Street terrified her, she says.
The Kammerers agreed that until they knew what was happening, life should go on as usual. They said nothing to the children. Around friends and colleagues, they kept quiet about their concerns, fearing Mr. Kammerer would lose his job if word of his symptoms leaked out. "I lost a lot of sleep," Mrs. Kammerer says.
One day in 1999, Mrs. Kammerer grew more alarmed: Her husband couldn't remember the word "sneaker." Soon after that, he started saying things like "my brain is just not functioning right here," Mrs. Kammerer recalls.
That year, at age 40, Mr. Kammerer was named a Chief Operating Officer of DLJ Mutual Funds, a Donaldson Lufkin division. His new responsibilities included presentations to the board of a Wall Street firm of 11,300 employees.
Within a year, Mr. Kammerer was struggling more often with words, a symptom of the disease called aphasia. But, always gifted at math, he showed no sign of having trouble with numbers, a key part of his job.
To compensate, he worked into the night, when colleagues weren't around. He increasingly called his wife from work, reading her memos he had written to make sure they made sense.
Co-workers say they had no idea what he was going through. Debbi Avidon, who worked for Mr. Kammerer from 1993 to 2001 and is now at J.P. Morgan Chase & Co., says she noticed Mr. Kammerer's longer hours but attributed it to his workaholic tendencies. "He was always very diligent and thorough," Ms. Avidon says.
Mr. Kammerer also withdrew socially. The cigar-smoking stopped. So did social drinking.
Mr. Jaffe, Mr. Kammerer's former boss for much of his time at DLJ, says that had he known about Mr. Kammerer's memory problems, he's not sure what he'd have done. "I would hope we would take the high road," he says. He would have been concerned about whether the condition hampered Mr. Kammerer's command over important numbers, he says, which might have meant a change in job responsibilities. "There probably are many jobs you can do well with that malady," he says.
In late 2000, Swiss banking giant Credit Suisse Group acquired DLJ. As is often the case in takeovers, Credit Suisse cut some of DLJ's top executives. Mr. Kammerer lost his job in June 2001. His severance package included two years of salary and a year of health insurance. He took the rest of the summer off and played a lot of golf.
By then, Mrs. Kammerer says, her husband didn't recognize certain people and couldn't name some objects. He became good at covering, smiling if he didn't know what he was being asked or calling people whose names he'd forgotten "sweetie" or "buddy."
Mr. Kammerer didn't consider leaving the work force. His kids were all under the age of 12. There were many more years of private-school and college tuition to pay.
But he began to lower his sights. Returning home from a positive interview for a prestigious job — running a European company's U.S. operations — he told his wife: "You know, Kathy, I don't think I can do this."
Instead, he sought out lower-level financial-industry jobs that wouldn't require him to work closely with others. He wrote out cue cards to take with him on interviews and changed the topic when he didn't understand what an interviewer had asked.